Heel Pain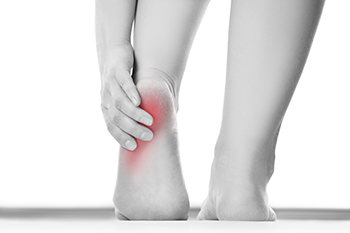 What is heel pain (plantar fasciitis)?
Plantar Fasciitis is the most common cause of heel pain. It's an inflammation of the band of tissue which extends from the toes to the heel, and often results from overly flat or very high arches. Obesity and long hours of standing in non-supportive footwear can also lead to this disorder.
Symptoms:
The pain of plantar fasciitis is felt on the bottom of the heel. Discomfort is often greatest right after getting up in the morning or when standing up after a rest. The pain typically improves after walking a little, but then returns after too much time spent on the feet.
What is the treatment for heel pain (plantar fasciitis)?
Surgery is rarely needed for plantar fasciitis. Some treatment options include:
Avoiding barefoot walking
Ice several times a day
Limited activities
Shoe modifications
Oral anti-inflammatory pain medication
Padding and strapping
Removable walking cast
Injection therapy
Night splint
Physical therapy
In addition, Dr. Bier offers three advanced treatment methods for heel pain:
Extracorporeal pulse activation treatment (EPAT®). Please click here to learn more.