Hammertoes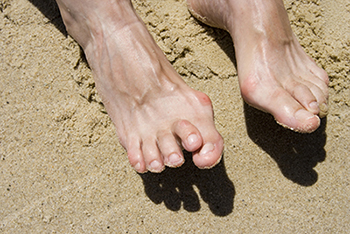 What is hammertoe?
Hammertoe is an abnormal bending in any of the four smaller toes. It begins as a mild deformity, while the toes are still flexible, and progressively worsens until the toes become rigid and must be surgically repaired. Hammertoe is most often caused by gradual changes in the foot's structure which give rise to muscle/tendon imbalance (eventually forcing the toes to contract). The disorder can be aggravated by wearing shoes that cramp the toes.
Symptoms:
Classic bent-down position of toe.
Corns and calluses on toe or ball of foot (from shoe rubbing on bent toe)
Redness or burning sensation
Open sores (in severe cases)
What is the treatment for hammertoe?
Treatment of hammertoes depends on how much flexibility remains. Early-stage treatments include:
Different shoes (roomy, comfortable, low-heeled)
Orthotic devices
Injection therapy
Splinting and strapping
Oral anti-inflammatory pain medication
Surgery is necessary if the hammertoe has become rigid, or if pain and open sores persist.