Diabetic Foot Care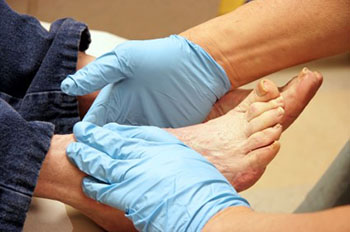 Nerve damage caused by diabetes can lead to loss of sensation and lowered blood flow to the feet. Small injuries may not be noticed due to the absence of pain, and wounds take longer to heal because of reduced circulation. In order to avoid serious complications, it's important for people with diabetes to follow these guidelines for foot care:
Daily inspection: Using a magnifying hand mirror when necessary, check all sides of the feet for any redness, swelling, blisters, cuts or nail problems.
Daily washing in lukewarm water: Be careful to check the temperature carefully so as not to cause burns.
Bathe feet gently: Use a soft washcloth and dry by blotting, especially between the toes.
Moisturize feet: Daily moisturizing helps prevent dry skin problems, but don't put moisturizer between the toes.
Cut nails carefully: Cut straight across, filing the edges smooth. Do not cut too short.
Do not treat corns or calluses at home: See your doctor for help with these conditions.
Put on fresh dry socks each day.