November 2018
Monday, 26 November 2018 00:00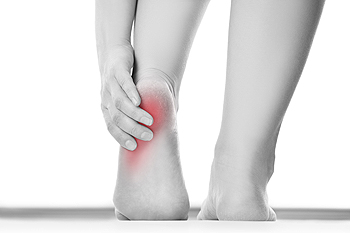 If you have a heel spur, you are most likely familiar with the pain and discomfort this condition may cause. The small, bony protrusion that forms on the heel may be a result of repetitive stress the heel endures, possibly originating from frequent running or jumping. Additionally, if the incorrect shoes are worn, or an abnormal walking pattern exists, a heel spur may begin to develop. Some patients may notice pain in the heel and surrounding area while walking, and it may be quite uncomfortable in the morning when the first steps are taken. There may be measures that can be taken, which may possibly prevent heel spurs from forming. These may include wearing shoes that properly support your feet, performing gentle foot stretches before physical activity begins, and maintaining a healthy weight, which may lessen the amount of pressure the heel may endure. If you have heel pain, it is suggested to speak with a podiatrist who can determine if you have a heel spur and can advise on proper treatment techniques.
Heel spurs can be incredibly painful and sometimes may make you unable to participate in physical activities. To get medical care for your heel spurs, contact Dr. Jeremy Bier from Preferred Footcare, LLC. Our doctor will do everything possible to treat your condition.
Heels Spurs
Heel spurs are formed by calcium deposits on the back of the foot where the heel is. This can also be caused by small fragments of bone breaking off one section of the foot, attaching onto the back of the foot. Heel spurs can also be bone growth on the back of the foot and may grow in the direction of the arch of the foot.
Older individuals usually suffer from heel spurs and pain sometimes intensifies with age. One of the main condition's spurs are related to is plantar fasciitis.
Pain
The pain associated with spurs is often because of weight placed on the feet. When someone is walking, their entire weight is concentrated on the feet. Bone spurs then have the tendency to affect other bones and tissues around the foot. As the pain continues, the feet will become tender and sensitive over time.
Treatments
There are many ways to treat heel spurs. If one is suffering from heel spurs in conjunction with pain, there are several methods for healing. Medication, surgery, and herbal care are some options.
If you have any questions feel free to contact our office located in Stamford, CT. We offer the latest in diagnostic and treatment technology to meet your needs.
Read more about Heel Spurs
Monday, 19 November 2018 00:00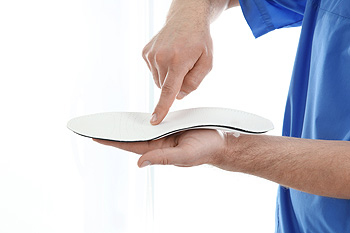 Foot pain may occur for several different reasons. Helpful aids may include wearing orthotics, which may alleviate a portion of the pain and discomfort. They are described as an insert that is placed inside the shoes and may provide the additional support and stability that is needed. There are specific kinds of orthotics that are used, and the correct type that is needed is generally determined by the type of foot pain that is experienced. Some of the conditions that are treated with these devices may include plantar fasciitis, bunions, or rheumatoid arthritis. If you have foot pain and would like additional information about the benefits of orthotics, it is suggested to consult with a podiatrist who is able to provide the answers you are seeking.
If you are having discomfort in your feet and would like to try orthotics, contact Dr. Jeremy Bier from Preferred Footcare, LLC. Our doctor can provide the care you need to keep you pain-free and on your feet.
What Are Orthotics?
Orthotics are inserts you can place into your shoes to help with a variety of foot problems such as flat feet or foot pain. Orthotics provide relief and comfort for minor foot and heel pain but can't correct serious biomechanical problems in your feet.
Over-the-Counter Inserts
Orthotics come in a wide variety of over-the-counter inserts that are used to treat foot pain, heel pain, and minor problems. For example, arch supports can be inserted into your shoes to help correct overarched or flat feet, while gel insoles are often used because they provide comfort and relief from foot and heel pain by alleviating pressure.
Prescription Orthotics
If over-the-counter inserts don't work for you or if you have a more severe foot concern, it is possible to have your podiatrist prescribe custom orthotics. These high-quality inserts are designed to treat problems such as abnormal motion, plantar fasciitis, and severe forms of heel pain. They can even be used to help patients suffering from diabetes by treating foot ulcers and painful calluses and are usually molded to your feet individually, which allows them to provide full support and comfort.
If you are experiencing minor to severe foot or heel pain, it's recommended to speak with your podiatrist about the possibilities of using orthotics. A podiatrist can determine which type of orthotic is right for you and allow you to take the first steps towards being pain-free.
If you have any questions please contact our office located in Stamford, CT. We offer the newest diagnostic and treatment technologies for all your foot and ankle needs.
Read more about Foot Orthotics